CA. Thanammai Ramachandran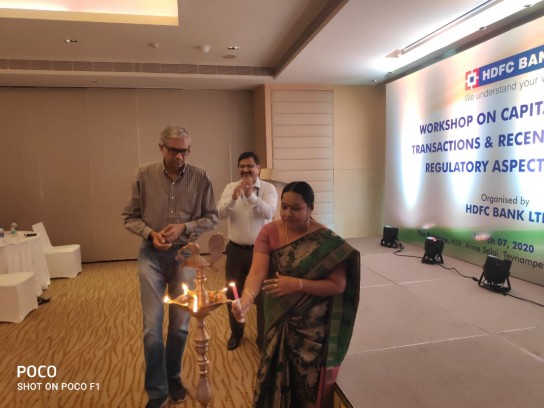 STORY OF MY LIFE (TOUGH TIMES DO NOT LAST, TOUGH PEOPLE DO)
This is Thanammai Ramachandran B.Com., FCA., JAIIB., aged 49 years.
I'm a proud Chartered Accountant and am presently working with HDFC BANK LTD as Assistant Vice president and living with my kids in Chennai.
My Husband Mr M.Ramachandran, worked with Indian Navy, served in INS RANVIR -Mumbai. I am blessed with a daughter and a son who are also working with renowned MNCs. The significant goal of my life was to be a Chartered Accountant, a qualification I am eternally thankful to God for. My life was pretty similar to most of you but in the latter part, my life had some strange twists and turns with an ending that is reasonably acceptable. I was born and brought up in Suchindrum (a small village in Kanyakumari district) and my father worked in the temple for a monthly income of Rs.150/- with which he used to feed our 5 members family along with my mother's hard work. Our family was below the poverty line and my school studies went on in a Government school.
I was a school topper with no means to study further. I had to adapt every trick and copious tears to get into the college. In B.Com graduation I came out with 80% marks with the benefit of a merit scholarship. My brother joined in Indian Army and with his support, I reached Chennai to pursue CA. But before completion of CA articleship, I was compelled to marry a groom employed in the Indian Navy.
I couldn't accept my marriage mentally as I thought it to be a blockage to my education, where my primary objective was to become a Chartered Accountant. During the time I fought like a cat with my husband at every possible opportunity, but he handled me very patiently and won my heart over. Soon we had a baby daughter and the educational loss became a personal gain, as I believed I had the best husband in the world. I was in the state of domestic bliss with the second son and a strong 7 years of married life.
My fate played a cruel blow and my husband met with an accident unexpectedly and left me alone with 2 kids aged 3 and 5. I was totally depressed and my future looked bleak. My professional life, as well as my personal life both, was halfway at sea.
After a long battle in my mind, finally, I decided to continue my CA course not only for my sake but for the sake of my children's future. But there was no financial support either from my parents or from my husband side.
Hence, I joined in an NBFC with the qualification of one Group Inter CA pass for a monthly salary of Rs.2000/- and served for 5 years and saved a lakh for my education. During this period, I was able to complete CA Inter second Group also. Along with those savings, I came to Chennai leaving my kids with my mother. Those days were terrible as I stayed in the Hostel alone and had left my children behind. A life, that I would not wish for anyone.
Life offers solace as much as it offers problems. I was blessed with the mentor Mr R K Nair, who is a Chartered Accountant & GM of NBFC, and also a lawyer of the supreme court. He motivated me to continue my studies, instigating positive thoughts in me. While attending the CA final classes I realized that the CA curriculum had undergone a drastic change during the gap of 12 years.
I remember attending Accounts classes and would be in tears as I would not even understand a word. I was crying all the way for a 5 km stretch from my classroom to the hostel. But I studied all day and night with a lot of self-confidence and was thrilled that I cleared the final First Group in the first attempt itself after 12 years break with 3 months preparation. The result restored my confidence but Group two eluded me with two attempts.
The days from 2000 to 2007 were one of hunger and self-pity. As my exams got over, I joined a small company and worked for 2 to 3 months to meet my financial needs and worked hard without rest.
Of course, hard work never fails. And also, with the grace of God, finally I achieved my dream qualification CA in the year 2007. I joined in the banking sector and now I realize that whatever I lost during the past 7 years, I got twice of everything except my husband's love.
Even though I have a lot of CA friends who had directed me during my struggling period, I am eternally thankful to CA. K.Murugan, who supported me and brought me to Chennai and CA. S.Ruby Winston, who had been instrumental in supporting hand for my successful professional life. These days, I am surrounded by a lot of knowledgeable and supporting souls viz CA. Sripriya, CA Sivakumar and many others
I could see a lot of young kids and ladies complaining about their failures and I have only one piece of advice for them, "When there is no wind please row as there is God guiding your boat and your oars". One humble appeal, accept the dear ones along with their small weaknesses and feel great about yourself that YOU ARE BLESSED BY GOD FOR HAVING SUCH A WONDERFUL LIFE while others are struggling outside, which we couldn't even imagine.
For anyone in need, am always there to lend my shoulders.