CA. Vidya G Subramanian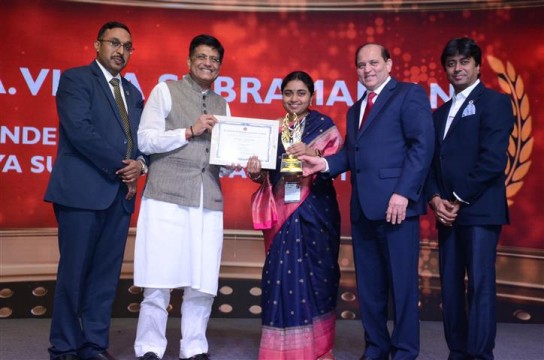 CA.Vidya Subramanian receiving 2019 CA Entrepreneur Award from Honorable Union Minister for Commerce, Industry & Railways, CA. Piyush Goyal in ICAI Awards ceremony held at Mumbai, Jan 2020
Vidya Subramanian Academy: A story of social entrepreneurship:
Born to parents who are both Chartered Accountants, I grew up fascinated by the world of numbers, audits and taxes. I also sensed the inherent societal respect that women professionals command and was greatly inspired by my mother's diligence, innate sense of balance and industrious nature. Doing the Chartered Accountancy course gave me valuable insights into how enterprises function and how important it is to make the financials succeed within the gamut of various laws, regulations and constraints. I was ranked 3rd in the Nov 1998 CA Intermediate exam and 2nd at the All India Level in the May 2000 CA Final exam with best paper awards for my performance in the Management Accounting and Cost Accounting papers.
With my parents' constant encouragement, I landed a spot at Boston College, USA's prestigious MBA program with a Dean's merit scholarship. My MBA studies gave me fascinating international exposure and deepened my understanding of how a business enterprise is organized and run – across various dimensions such as core products, services, workflow, human resources, finance, marketing and operations. My CA background had given me the tools for detail-oriented financial analysis and understanding of business structure, regulation and function, which was a great foundation to build on. Upon graduation, I worked in consulting and corporate finance positions in California and New York, and also obtained the CFA Charter in 2006.
Since childhood, Carnatic classical music has been a personal passion to me. I was blessed to have the wonderful opportunity to learn vocal music under world-renowned maestro and Padma Bhushan awardee Guru (the late) Lalgudi Sri Jayaraman from the age of 12. As I grew up, I realized, much to my own amazement, that my twin pursuits of arts and academics reinforced each other and helped me grow intellectually.
With the birth of my first child in 2004, I decided to take a year off from my corporate job (I was employed with General Electric in Albany, NY at the time) and began teaching music to a few students. In a short span of time, I saw enormous potential opportunity in online teaching of Carnatic music and traditional arts. I also realized that India has an amazing pool of highly trained and accomplished classical music artists and teachers who often (except for the well-known star performers) struggle for opportunities as well as financial security. With the support and encouragement of my husband who gave me confidence to quit the secure confines of a corporate career and start an entrepreneurial venture, I decided to create a portal to bring together talented teachers and students from across the world. The goal of Vidya Subramanian Academy is two-fold: 1. To enable students of all ages, backgrounds and locations (including those with special needs) access and learn India's great traditional art forms and classical languages & slokas in a customized and affordable home setting 2. To empower artists and teachers of traditional arts, especially women, by giving them an online forum to share their knowledge and helping them build an income stream for their families through a unique work from home opportunity.
As we all know, women are heavily under-represented in India's workforce and this is a huge under-utilization of the nation's talent pool as we go about the process of national building. I am often amazed at the talent and enterprise that women artists in my team exhibit. Over time, my team and I have put together a comprehensive training as well as marketing support program. Equipped with confidence, training and technology, teachers work with assigned students who may be located anywhere in the world. It is truly heartwarming to see how financial independence and flexible work opportunities empower women and also bring in very positive changes in familial and societal attitudes towards working women, especially in a traditional society like ours.
The growth of Vidya Subramanian Academy (www.vidyasubramanian.com) has been entirely organic – through website queries and word-of-mouth referral and positive feedback from satisfied students and parents. With a student strength of 1000+ and growing, we offer classes in Carnatic vocal and instrumental, Hindusthani vocal, Sanskrit language and slokas, Tamil language and chants as well as Bharatanatyam and konnakkol. We also offer online certification exams in music for our students. Our students (aged 4 to 75+) come from diverse religious and cultural backgrounds. My work has led to my being conferred the Kalaimamani Award in 2018, the highest award given by the Government of Tamil Nadu for contribution to the arts. I was featured in a special documentary in BBC World news and also conferred the Homepreneur Award in 2018.
The COVID-19 pandemic, while wreaking havoc on traditional businesses, has greatly increased demand of online learning. It is heartening to see students of all corners of the world, including Tier-2 and Tier-3 cities in India, approach us with deep desire to learn traditional art forms. This has, in turn, enabled me to scale up and expand my team and provide work opportunities to scores of deserving artists.
Does my training as a CA play a role in my current "momtrepreneur artist" avatar? The answer is a resounding yes! Running a boutique venture like Vidya Subramanian Academy requires tremendous commitment, creative energy, time management and attention to detail…. all precious skills that I learned when training to be a Chartered Accountant. I pursue the art form I love but I get equal pleasure in stating that I am a proud woman Chartered Accountant whose academic training has helped build an e-commerce platform!
Winning the 2019 CA (female) Entrepreneur Award at the 13th ICAI awards provided a great boost to my spirit and confidence. The ICAI awards recognize Chartered Accountants who have demonstrated excellence and portrayed an abiding commitment to achieve heights based on excellent skills, dedication, enthusiasm, leadership and the ability to deliver the best. It was truly humbling and inspiring to see my small-scale entrepreneurial venture recognized on the same platform as CAs who are national-level business and industry leaders.
Here is my message to my fellow women CAs… be flexible, be creative and think out of the box. Don't be afraid to step out of your comfort zone! If your current work life imbalance is bogging you down, look for new vistas. This is a knowledge era where sky is the limit for dynamic women CAs!