CA. Petchi Thangavel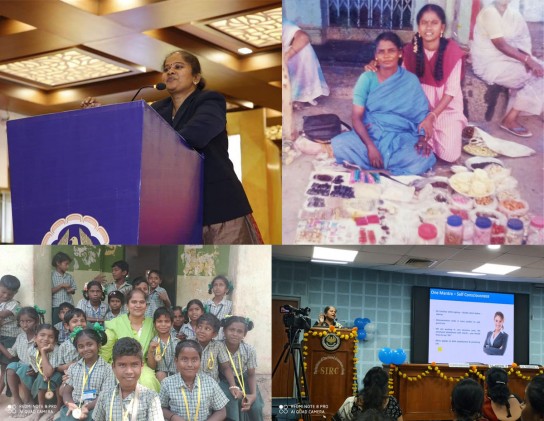 I am Petchi Thangavel and am thankful to the Almighty for making me the daughter of a vegetable vendor in Madurai to be a CA today. I had never been a topper in my academics. As a mediocre performer, I would just bother about getting passed in the subjects. But it wasn't a smooth sail anymore when my twelfth standard result was out. No wonder that it was once again a commonplace score. For the first time in my life, I felt the pinch of the seriousness of the academics. At this juncture, the want of good marks coupled with the want of money, made me think seriously to do something that would make me 'someone' in the society. It's never too late, you know! With the Almighty's abiding grace tied to my parents wish and perseverance drove me to crack the hard nut, C.A.
All the dreams of becoming an Auditor started with a humble beginning of joining B.Com., in a self-finance college in Madurai. From day one, I kept my goal alive free from doubts and fears. All those three years I never left any stone unturned, be it academics or extracurricular activities. My determination and resolve paid me high with an identity of Rank Holder and much more accolades. The journey towards becoming a C.A. initialized by doing Articleship in Madurai. During the tenure of Articleship, I was not able to clear the Intermediate Exams; however, the fruit of the labour was the knowledge I have gained in the Articleship.
Despite the regress, I curled up my grit and moved to Chennai in 2005 with a vision of completing C.A. at the earliest. My D-day was not too far…and I completed C.A. in 2007. I would be ungrateful if I fail to mention those well-wishers who tapped my latent potential to prominence and those beacon lights are Mr.Seshadri (Professor), Mr.Sivakumar (Partner Karra & Co), Padmashri.T.N.Manoharan (Former President of ICAI) and Mr.Aramvalarthan (Professor).
Having achieved the dream, in 2007, I started off my professional career with Deloitte, a first-ever challenging ambience I met. At Deloitte, the prospect to learn and grow was immense as it was a 'compact, smart tax team' that I worked with. For the first three years, I explored Corporate Tax, International Tax, FEMA regulatory works, Transfer Pricing, Representation before tax authorities. In due course of the time, the tax team expanded and a separate team for each service line was established and I was into corporate tax team for the next two years. Life at Deloitte was indeed an enriching and rewarding experience. But my thirst to explore the unsailed boundaries moved me to KPMG. My short stint there moulded me to establish my own office in June 2014. Surely, the 7 years of learning experience at Big Four fine-tuned me to become what I am today. Currently, I am a partner in Petchi & Associates Chartered Accountants having head office in Madurai and branch in Chennai.
Having gained some knowledge and experience in my chosen core field, I now feel that my knowledge sharing with aspirants would help many realize their dreams come true. In tune with this, I offer motivation, necessary guidance and help to the needy ones. I consider it a great privilege and responsibility to give back what I was given. I have been awarded Life Time Achiever Award for the contribution provided to bring change in the society. I owe the bliss, I enjoy as a Chartered Accountant professional, Motivational Speaker, Faculty for CA students (Orientation program and MCS), CPE resource person (Direct Taxation & Professional Ethics) to the endearing grace of the Almighty.
Mothers are always superheroes to everyone, same goes to my loveable mother in my case. Although she was illiterate, she was a cup filled with knowledge. I wish to follow her footsteps. Her three simple principles which she insisted on me to follow are:
1. She always believes that honesty is the best policy to live happily.
2. She always insists not to look on to others life, be happy with what you have.
3. The most important principle is not to betray others and come up in life. Believe in yourself, work hard and success is yours.
My success magic is "Hard Work and Prayers will bring sure Success"
I am married to Kannan who is employed with the State Government of Tamil Nadu. I always believe in the power of words, and my passion for speaking, writing groomed along with my professional endeavours.
You can contact me on petchi@icai.org for any technical clarification in Direct Taxation. Jai Hind.